The best Rugby league betting has grown around the world in tandem with the sport. There are loads of popular rugby league tournaments available for Australians to bet on, including the National Rugby League, the Super League or the RFL Championship.
If you're interested in placing rugby league bets, you've come to the right place. Our ultimate guide on rugby league betting will help get you started by providing you with all you need to know to place your first bet. So, read on down below to find out more about how to bet on rugby league games as well tips you should keep in mind when you choose to do so at the best sports betting sites in Australia.
Top Rugby League Betting Sites
We can without a doubt say that these are the top-rated rugby league betting sites in Australia. They provide punters with the best odds and selection of bets:
What is Rugby League?
Rugby league is one of the two codes of rugby played around the world. It was created in 1895 after members split from the Rugby Union over a disagreement involving the payment of players. Ultimately, the rules were changed from that used to in traditional rugby union games in the aim of creating a more entertaining display for spectators.
Rugby league differs from Rugby Union in that teams are made up of thirteen players instead of fifteen. This form of rugby also doesn't feature any rucks or mauls. Instead action stops when a player is tackled. If a team is unable to score after six tackles, possession is overturned to the opposing side.
There are also minor differences in scoring with tries, conversions and penalties counting less points in rugby league. Ultimately, this is aimed at making the sport less of a kicking game as teams cannot rely on penalties or drop goals to level or extend scores.
How Rugby League Betting Works
Rugby league betting sites are available for a punters wagering pleasure. There are a number of different bets Australian punters can make on rugby league games. The bets listed below are the ones most popular at online sportsbooks:
Head-to-Heads – these are bets made on a singular match up. Punters either select a team to win or bet on the game ending in a draw. Ultimately, it is the easiest bet to place at sportsbooks online.
Rugby League Handicap Betting – handicap or spread betting sees the sportsbook pick a favourite to win the match and give them a disadvantage by setting a margin they need to win the match by. For example, in a league game between the Sydney Roosters and the Wests Tigers, the Roosters could be given a 15-point advantage. This means that they need to win the game by at least 15 points in order for any handicap bets made on the team to payout.
Futures – these are outright bets made on a rugby league tournament. They see punters attempt to predict who the overall winner of the tournament is going to be long before the final match is ever played.
Totals – players attempt to predict the total score of the game with these bets. The scores of both teams are combined and players get to guess if it will go over or under a certain figure.
Props – these are bets made on something happening in the match. It could be a bet based on who score the first try or a certain player scoring the largest number of tries.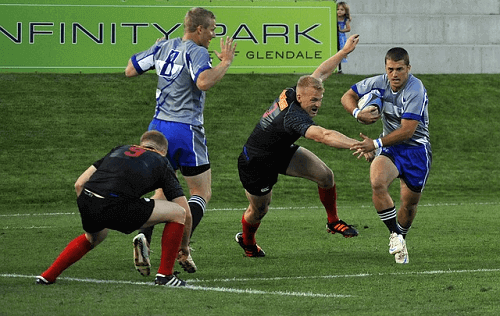 Rugby League Betting Tips
When building the best rugby league tips, it is important to take the following rugby league tips and tricks into account. They are sure to increase their odds of making successful bets if they do so:
Don't Always Make Outrights Too Early – it doesn't matter which tournament or league you're betting on, you should never make outright or future bets too early. Odds will be skewed towards the favourites, and a lot can happen in a season or tournament. This is particularly true if you're betting on a tournament like the Rugby League World Cup.
Parlays are Your Friend – if you like betting on favourites or even if you just find the odds betting on a singular match to be somewhat low, we recommend that you combine multiple bets consisting of matches you are pretty sure will end in a certain way. This way you stand a chance of winning a greater sum of money on a singular bet.
Focus on Favourites in Big Tournaments – rugby league isn't as diverse a sport like soccer or cricket. In general, Australia, New Zealand and England have proven to perform rather well in international tournaments, so these are the teams you should really be focusing on when you bet on such competitions.
Be sure to have a look at our blog for more rugby league tips on rugby league club and international tournaments. We constantly post updates on all the most popular sporting leagues in Australia.
Rugby League Betting Odds
Rugby league odds are calculated based on a number of different factors, such as who is contesting the match, where it is being hosted and the line-ups of both teams on the day, among many others. Ultimately, punters will never know everything sportsbooks take into account when setting rugby league odds, and because every sportsbook looks at different factors, each will provide punters with a range of different rugby league odds.
We recommend that punters always shop around for rugby league betting odds. This is the only way to make sure that you are making the most money on a particular bet. If bettors fail to do this before placing a bet, they run the risk of losing out on extra potential winnings.
Check Out Our Other Sport Betting Guides