Party with Ashleigh Barty on Saturday
Looks like Saturday night is going to be epic with Ashleigh Barty throwing a part on zoom. Australia's No. 1 tennis player celebrates the first French Open anniversary. However, as the year progresses hopefully she'll get the opportunity to defend her cup. It seems like the match will take place from September 20 until 4 October despite coronavirus and still being on lockdown.
Queensland sweetheart would have been at the women's final in Paris on Saturday had it not been for COVID-19. With that said, Ash Barty still has every reason to toast to her grand slam win. Ausportsbetting.org couldn't think of a more perfect reason to celebrate.
Who did Ashleigh Barty Invite?
Garry Kissick who is Barty's boyfriend and a golf player is going to have dinner with her coach Craig Tyzzer and Alicia Molik, AUS Fed Cup captain. All of this will be taking place at Nikki Mathias' home, the house of Ashleigh's agent. To join in on the call is some of the people that play a role in her wellness and career such as Adam Schuhmacher, Ben Crowe, Mark Taylor, and the likes.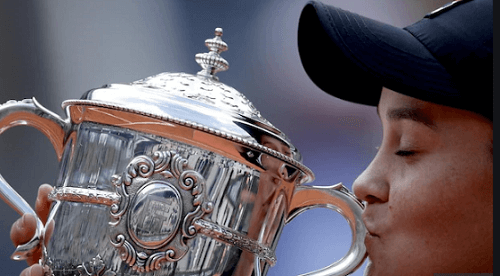 Barty Has Every Right to Celebrate
In the history of women's tennis Ashleigh Barty is the 13th longest No.1 titleholder. This is a special moment for her and those who have played an instrumental part in her life. Barty couldn't believe that she won; the memory will be in her mind forever. With what the outstanding tennis player has already achieved we wish her all the best for her future endeavours.
Women's Tennis World No.1 in Weeks
| | | |
| --- | --- | --- |
| Place | Tennis Player | Weeks |
| USA | Martina Navratilova | 332 |
| USA | Serena Williams | 319 |
| USA | Chris Evert | 260 |
| SUI | Martina Hingis | 209 |
| GER | Steffi Graf | 186 |
| USA | Monica Seles | 177 |
| BEL | Justine Henin | 117 |
| USA | Lindsay Davenport | 98 |
| DEN | Caroline Wozniacki | 71 |
| ROM | Simona Halep | 64 |
| BLR | Victoria Azarenka | 51 |
| FRA | Amelie Mauresmo | 39 |
| AUS | Ashleigh Barty | 35 |
| GER | Angelique Kerber | 34 |
| RUS | Dinara Safina | 26 |
| JPN | Naomi Osaka | 25 |
| RUS | Maria Sharapova | 21 |
| USA | Tracy Austin | 21 |
| BEL | Kim Clijsters | 20 |
| SRB | Jelena Jankovic | 18 |
| USA | Jennifer Capriati | 17 |
| SRB | Ana Ivanovic | 12 |
| USA | Venus Williams | 11 |
| CZE | Karolina Pliskova | 8 |
| ESP | Garbine Muguruza | 4 |
| AUS | Evonne Goolagong Cawley | 2 |
| ESP | Arantxa Sanchez Vicario | 2 |